Naval just tweeted: "You're doing sales because you failed at marketing.You're doing marketing because you failed at product."**
News Flash: Most Product team members don't actually use their own App. As an App user, we've all thought "wtf were these developers thinking" (I'm looking at you Microsoft Teams 😀).
These teams are Product-centric but not Customer-centric – it's a lack of empathy and you need people in your team that are champions for the customer. I've written elsewhere about why Customer Support/Care is a key input to Product. But can we develop cultures of Customer Success?
Customer centricity is essential for a 21st-century product company and should be a focus for the product team. In this series, "Context Marketing" is the focus/lens that Product Teams can use to view the User's Journey.
"Marketing" may be a dirty word for Product Managers, Developers and Customer Success – if they wanted a career in Sales or Marketing, they would have chosen it – maybe they see it as "the dark-side". But, but, but…great Marketing and Sales seeks (with empathy) to speak to the customer's needs.
Product Teams with customer-centric cultures make products that:
Do the "Job-to-be-done"
Surprise and delight customers.
So "Context Marketing" isn't a dirty word but making an App infused with the very same "user" curiosity and empathy that Sales and Marketing folks have.
Context marketing is, by nature, user-oriented, individually analysing and displaying content that would be of interest to the client in question – in this moment. Product-led growth and customer success are inevitable.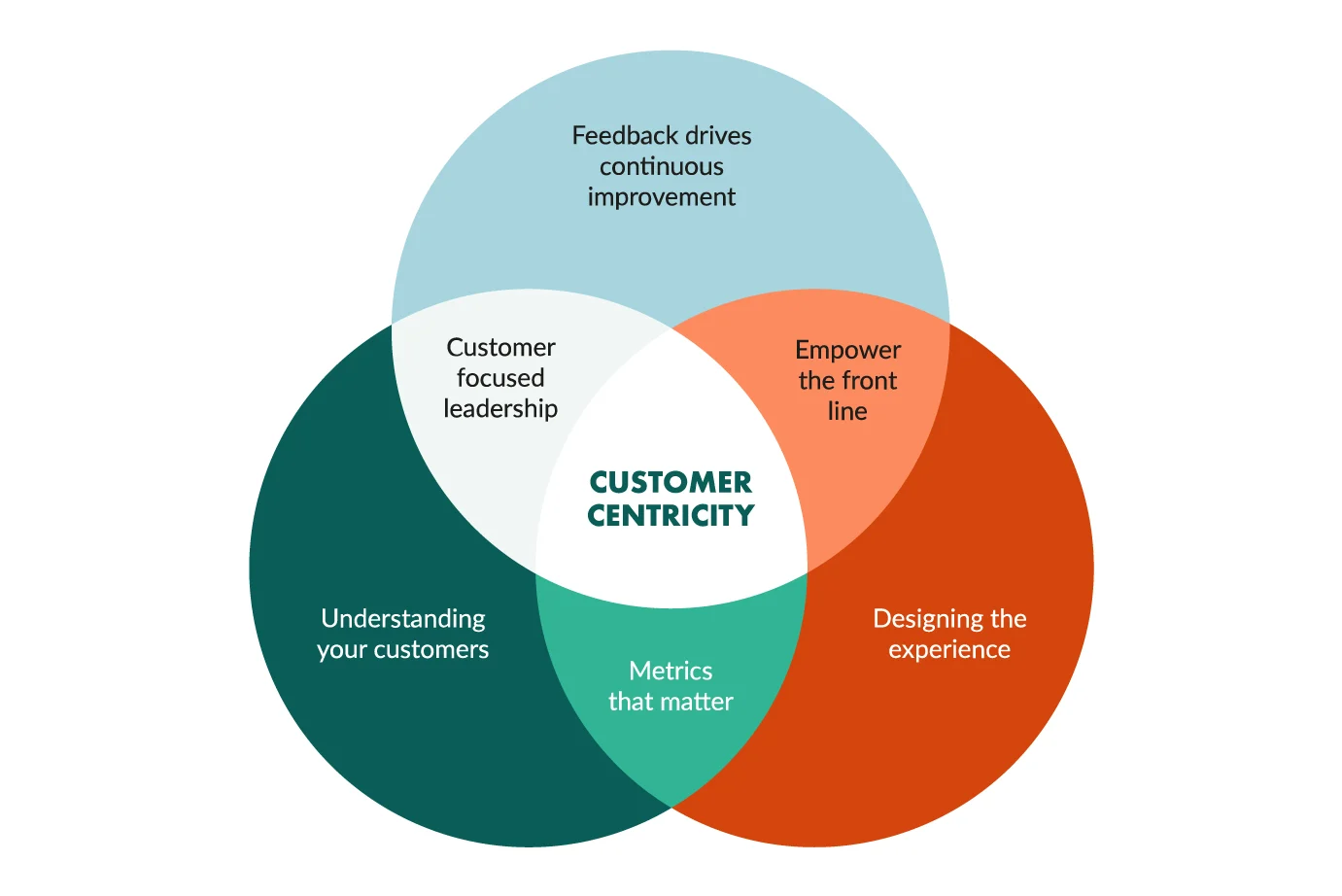 3 Benefits of a Customer-Centric Mindset
Understanding the User Journey
Increasing Customer Satisfaction
Reducing User Churn
The bottom of this post details each of these goals. Context Marketing puts features, offers and help that a customer needs at each point during the User Journey – context matters when it comes to inApp messaging, help, feature releases, and so on. 
At Contextual, even a simple tooltip for the right-person at the right time aims to meet these 3 goals.
Can Product Teams afford Customer-centricity?
One (unamed) Company developed a successful B2B app, they have a good customer base and product-market fit. What a dream! Or is it?
While things look perfect on paper, what can't be seen from the outside is that they are overloaded. Their engineering led culture codes everything in-house – the founders were super-coders so all engineering copy-cats that hairy chested style. The App is loaded with features (developers build whatever customers ask). So the App has grown to be complex….customers need to be onboarded, features need to be explained and guides need to be released.
The Customer Success and Customer Care teams are overwhelmed with a backlog of customer tasks/followups that need to be done and consider giving extra responsibilities to the developers. While hard coding was once the main option in these situations, now it feels outdated, and it only adds to the problem. Designers could fix these issues, but it would be costly, and it would only add to the development backlog.
This scenario is a vicious circle: by letting the developers handle it, the company loses money and time.
Poor App customer-centricity results in these top-line problem:
Increased load on Customer Care
Lags in resolving Customer problems
User Churn
Poor revenue
Poor reviews and referrals (the engine of low cost marketing and acquisition)
By hard-coding every aspect of a product, there is less time to develop new features, more effort goes into contextual customisations, if each user (cohort) is manually analyzed, and there is no analytics that proves the success of any of these aspects.
Another lost opportunity is the lack of performance/usability data flowing back into Customer Success systems. Lack of this data means the organisation can't adapt and learn from lessons.
Keeping super-coders employed is expensive, there are many job opportunities for coders and it's unlikely that coding tips, guides, marketing will lead to employee retention.
In addition, recruiters now demand fees of 18-20% of salary. Every dissatisfied departing engineer has a devastating impact on corporate memory.
Customer Care and Customer Success Costs
With Increased load on Customer Care, this results in unhappiness and churn in your staffing.
Recruitment and retraining may not be as expensive as engineering churn but every green, newbie, clueless customer support rep will be a bad experience for the customer.
This is a huge risk!
Few product teams have enough development resources to write features AND have a framework of inApp messaging and help. Hard coding is costly, slow and precious.
The solution is to:
1. Have developers focus on improving the product itself – the "feature layer"

.

2. Use "engagement layer"

tools like Contextual to help the User Journey.
No-Code inApp tips, guides, walkthroughs, announcements and feedback can be delivered on the Engagement Layer without consuming developer resources – much more affordable.
By choosing to let go of the "NIH"*** mindset, any product-led company would do themselves a favour. Precious time is saved, and less effort goes into satisfying your customers. 
No-code engagement layer tools like Contextual are not a silver bullet but can help significantly to reduce costs and risk discussed above.
Why Context Marketing ⇒ Customer Success
The JTBD (jobs-to-be-done) framework helps product companies achieve product-market fit, as well as the level of satisfaction their users have while using the product.
Context Marketing is a similar framework
By recognizing the need for context marketing (and platforms that deliver contextual help), the workload could be lighter and stress more manageable in Customer Care and Customer Success teams. Also, by using this method, Product Management can be more empathetic towards the customers as well.
Context Marketing can be even just a simple tooltip. Users can self-serve help, and they will feel closer to the product if right-place-right-time content is shown throughout their user journey.
We now have mutually beneficial ROI (return on investment) between the company/product and its clients.
The key is the customer – not the product.
The product is in service to the customer. The drip emails are in service to the customer. The chat widget or support button are in service to the customer. The help desk is in service to the customer. No touch point should lack customer-centric empathy.
More importantly: product management, developers, designers, scrum-masters are thinking customer-centric.
By using this framework, customer success is increased.
Consider the Contextual ROI Toolkit.
We take care of your announcements, guides, and feedback, so you won't have to think about 'Build or Buy?' ever again. By choosing us, you can have access to the above-mentioned analytics to see if we help your users in their workflow, as well as lighten the workload of the design and development team. This way, you can focus only on coming up with new and exciting features for your product!
---
** Lots of Tweeps got grumpy and argued with Naval. Of course. Its rare to find a product today that doesn't have competitors, so S&M play a function even for the most loved products.
*** "NIH" is Not invented here – it is very common in large silicon valley companies like google because of the massive profitability and the huge scale. But nowadays we find even larger companies consider using SaaS platforms to solve problems that arn't their core competency. E.g Analytics or Product Adoption.
Appendix - 3 Goals in Detail
Understanding the User Journey
Product-led companies can be tempted to focus more on their product rather than their users. As they put a lot of effort into the creation of an app, they tend to forget about their audience's happiness – "growth" gets bolted-on as a tactic without customer empathy.
By allowing the users to be the centre of attention, instead of the product itself, product companies are more likely to understand the user journey and the exact steps a customer might go through in a session. 
This is important for future user journey mapping too, as it reveals possible weak points, parts of the product that need to be improved, as well as its strengths. By taking time to understand the before, during, and after parts of the user journey, context marketing can also be better targeted, uncovering the exact needs a user has while using an app. 
Increasing Customer Satisfaction
Users make or break a product and the developing company as well. Their opinions are essential for product-led growth, and so is their happiness. 
Customer satisfaction is not a new term in the marketing world. Context marketing especially focuses on this concept, as it plays a great role in what type of content users are shown while working with a product. The right place and the right time are crucial elements of customer success.
Customer centricity helps product-led companies to recognize and adjust their practices that increase user satisfaction and offer a positive user experience. 
Reducing User Churn
By placing the user in the centre of the product development, product-led companies can observe the patterns and behaviours of their clients. This not only helps in the user journey mapping task, but it can be a great starting point in reducing user churn. 
Analysing the possible reasons why users may or may not like different features, conducting A/B testing on them, displaying different tips to guide them in their user journey are all beneficial in determining reasons why churn might occur. With these and a problem-solving attitude, solutions can be found to reduce user churn.
The key is the customer. Their satisfaction matters in the success of a product. By looking at their journey and adopting a customer-centric mindset, it's obvious how much context matters when it comes to marketing, feature releases, and so on. Here, at Contextual, we understand the need for context the best!