We convened a panel specifically for Product Teams to understand the potential in combining their own product offering with the capabilities of GPT and Generative AI.
In this video discussion, several industry experts participated in a panel discussion to share their insights and experiences with GPT AI technology in product development. These panelists offered valuable perspectives on both the opportunities and challenges presented by GPT AI, as well as practical advice for implementing this technology effectively.
With 2 veterans and 2 startups on the panel, we had a diverse range of views, each with their own unique background and expertise in product development and AI.
Some of the topics:
How has GPT changed since we posted this meetup? 🙂
Define ChatGPT, GPT and Generative-AI in terms of Apps
What are some Product and Tech strategies to assess GPT in your product suite?

What will GPT commoditize?
How can my Product get a unique advantage?
Are the technical attacks known? (poisoning of training)
Marketing your Product

Is SEO dead?

Beyond writing blogs and emails
What is the "new, new" marketing thing?

Ethics:

How might your product overstep?
You can 100x content, fake news, deepfakes and spam – is that ever good?
Re-invent, re-deploy or Re-trench staff?
What new careers emerge from GPT?
The panel provided a comprehensive understanding of how GPT AI can be used across Product opportunities. Their collective knowledge and firsthand experiences helped to paint a realistic picture of the current state of GPT AI integration, as well as its potential for future growth and development.
By referencing the insights and experiences of these panelists, the article offers a well-rounded overview of GPT AI's role in product development, giving readers the tools they need to make informed decisions about incorporating this cutting-edge technology into their own product teams' workflows.
We referenced this slide from Australian startup Curious Thing that performs conversational AI in customer support applications. The point of the slide is for Product companies to be aware of where they are operating to make sure they have an offering that is unlikely to be commoditised.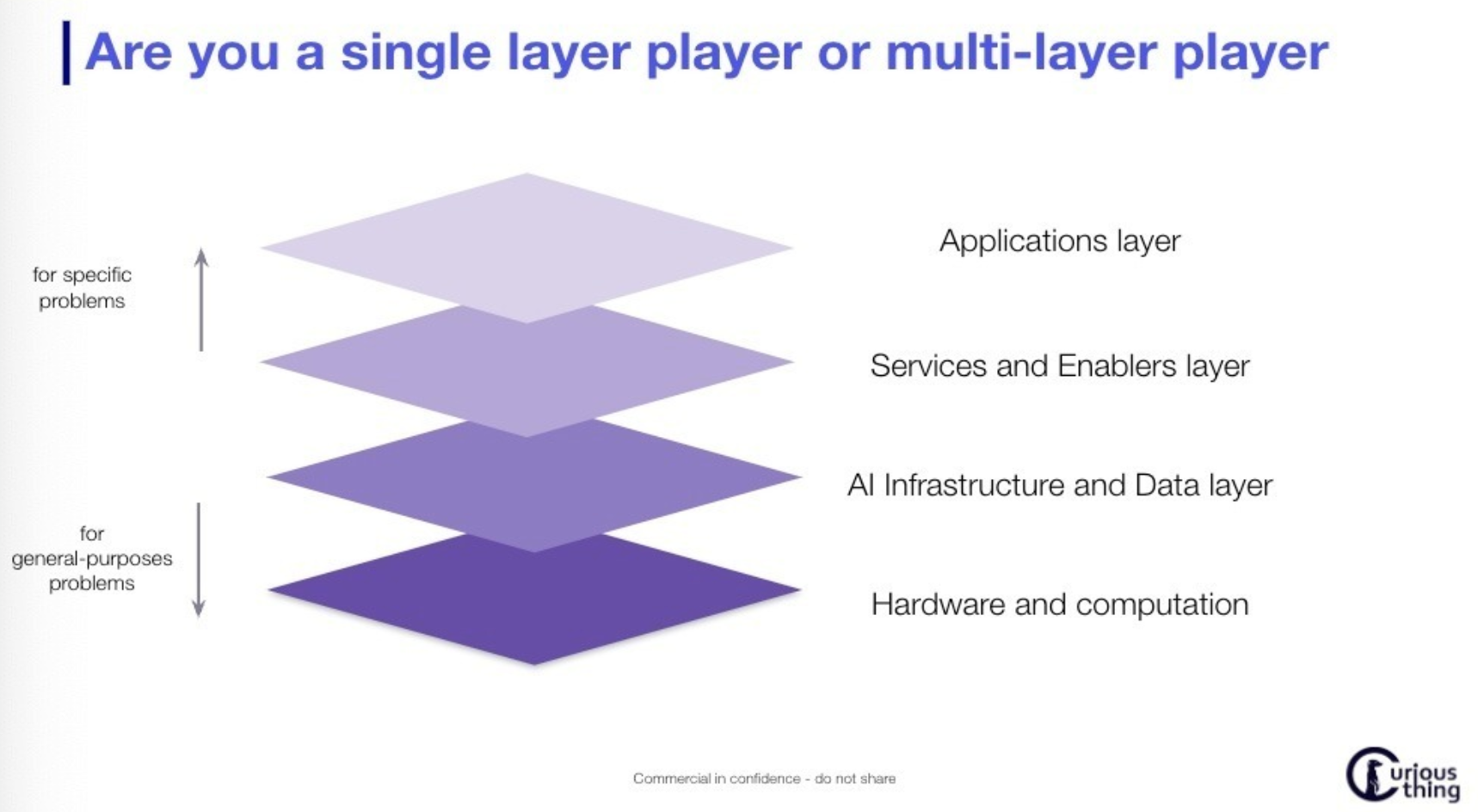 The panel was:
Luke Metcalfe has been a data entrepreneur since 2002 and coder since the age of 5. He's had two exits and consulted in data science to boards and founders, all the while remaining on the tools. His current project, Microburbs, is the largest and most diverse geo database in Australia, AI platform and useful suburb selection reference for property buyers. He has been aggressively integrating generative models and GPT into his startup since 2020.

Stephen Hardy is an Expert Partner in Advanced Analytics at Bain & Company, focusing on delivering AI solutions in the APAC region. Most recently he was CEO at Ambiata, a data science consultancy, and before that head of Data Platform Engineering at CSIRO's Data61. Stephen has been working in the field of machine learning and AI for over 20 years, and has delivered solutions using Large Language Models into production into both small and large enterprises. 

Claire Campbell is the Ventures Lead at Terem Joint Ventures, focused on building tech spin-outs in partnership with market leading businesses. Claire is currently building a venture on OpenAI. Claire's background is in strategy and product with some of Australia's largest ASX-listed businesses. She's also a fellow and mentor of the Startmate network.
Shan Kulkarni is the Co-Founder & CEO of Nullify.ai, a new Australian cybersecurity/AI startup who recently closed a $1.1M pre-seed round led by OIF Ventures to build a bot that secures your codebase. Shan has previously lectured cybersecurity at UNSW and is passionate about the way the evolving AI landscape is changing cybersecurity products