Our readers develop and run Apps in competitive markets. Even once "safe" corporates like banks now compete with mobile-first "Neobanks" crafting Apps that are disrupting the oligarchy.
So how do you compete with a large funded competitor? They could be a big corporate or a Blitzscaling startup. In this webinar, Scott Middleton and I examine how one blitzscaler: Monday.com ($234.1M funded)  onboards and activates users. They literally throw everything including the kitchen-sink to make you believe their product will solve your team productivity needs.
If you don't have 14 minutes to trawl through the takeaways, I'll give some pointers to what we spoke about.
1. Tough Sector
Monday is in a cluttered "Team Productivity" segment, it's  also B2B SaaS – one of the most profitable sectors for Apps that dominate. Incumbents/competitors include Trello (2011), Asana (2008), Basecamp (1999), Jira (2002).
With this massive addressable market, Monday.com know:
there will be plenty of triallers
if they can nail the onboarding for each trialler they have a highly profitable opportunity.
this underlies the intensity of onboarding and activation.
they drive for Fast activation
they know there is Fast/high churn potential.


2. Reduce Cognitive Overload
Contextual Tips stop cognitive overload and start the path to "Aha", they deliberately reduce the number of options at the "top-of-funnel" so the user can only do what supports onboarding.

No "empty states" (User gets visual feedback of usefulness) even when first time in the App. Many Apps leave you guessing about what things will look like once you've adopted the product.

use subtle tooltips to explain the common use-cases. "Show-me, Don't tell me".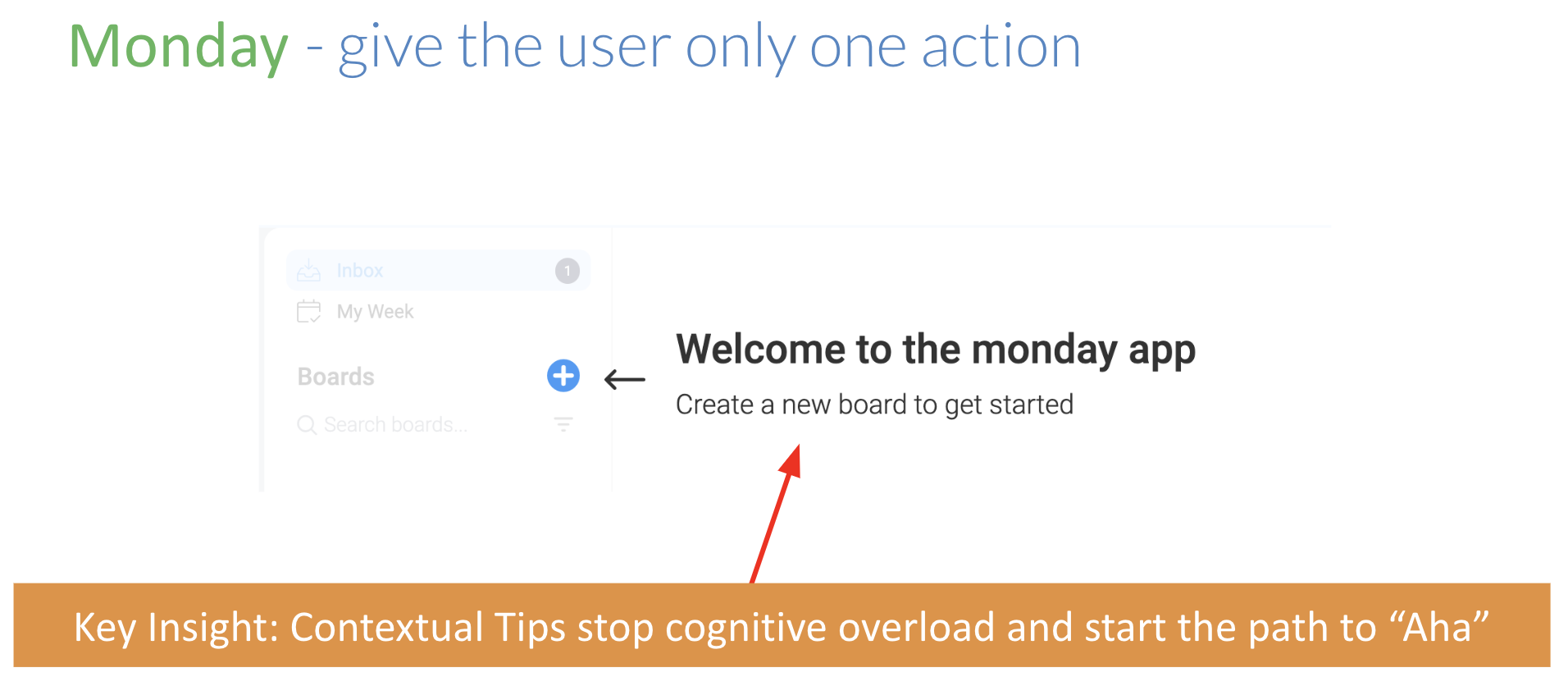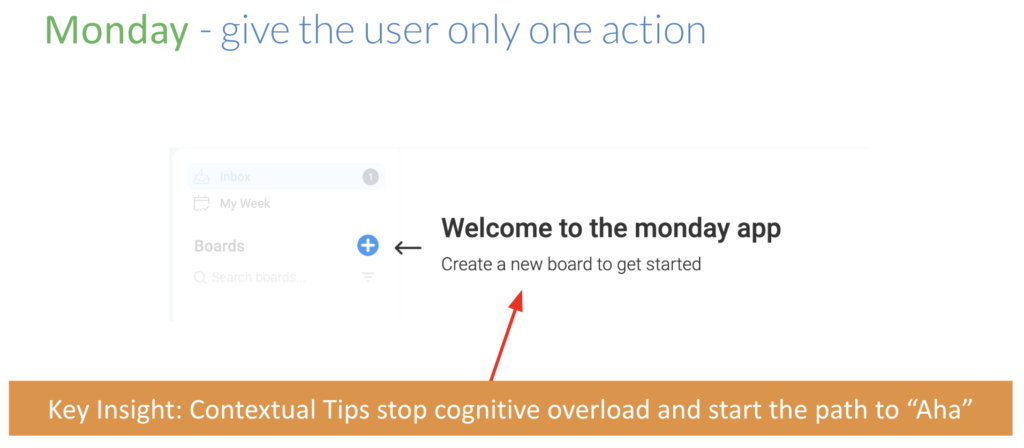 3. Viral Acquisition
Monday recognizes they are going to get the best lock-in when customers invite a colleague.
So their invite stuff is aggressive – I think too aggressive but clearly they've kept it because its worth the risk. 
They use modals, so I am forced to think about it and its not optional.
IMPORTANTLY: they have a tiny, tiny "I'll do it later" option that lets you escape the invite process and get on with your evaluation. This "Single player mode" is an example of then the company goals and trialler goals are different.
4. Gamification and Contextual "Show-me" (Videos)
Gamification is more subtle in B2B, tools like checklists, progress bars are silent reminders for a user to complete tasks they enhance onboarding.
Progress bars are great to orient users (in their journey)

Keep demo videos inside the platform and contextual)

Let the user self-pace
5. Second Session – Inbox and more checklists
The main insight here is that Monday goes all out with contextualizing the user in their journey and what are the next steps. The "Inbox" item is pleading with me to invite teammates and create more boards.
Its possible this message varies PER-USER depending on where they are in their unique journey (I didn't test this).
They've probably used their analytics over time to learn that multiple users and multiple board use-cases drive up the likelihood of activation and retention.
This is expensive stuff to code and deliver but must have been worth doing to keep triallers on-track.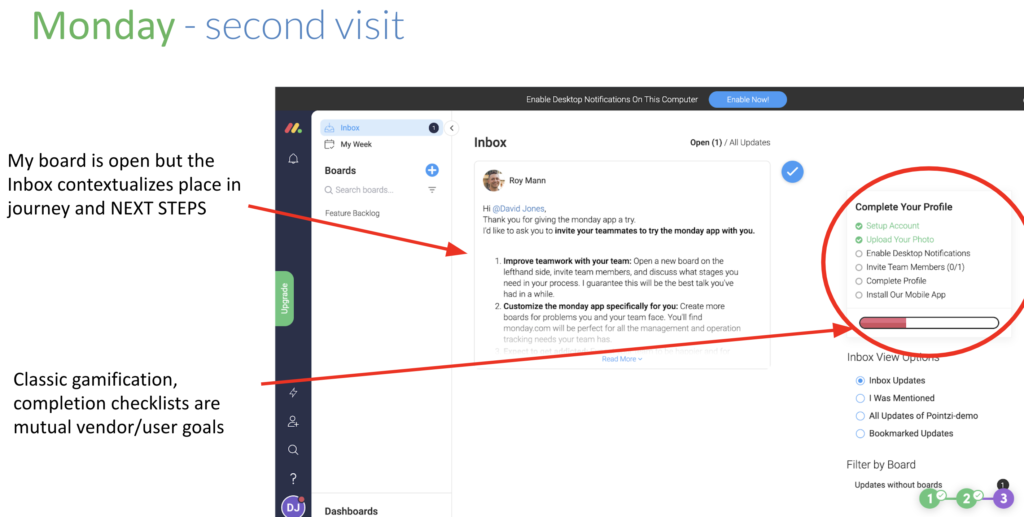 6. Emails, Push Notifications
Most Apps know that drip emails during the trialling process give you 3 big benefits:
Get the user back into the App
A second chance to explain possible use-cases that resonate with the user
Open/Click Analytics tell you if the user is genuinely interested or just a tyre kicker.
Monday is no exception – the email to join a webinar is genius because it allows the user to get deeper understanding that sometimes self-onboarding just can't achieve.
But can we afford to do all this??!!
Monday's $234.1M investment certainly helps to be able to build out an impressive, dense and impactful onboarding process.
Other Apps that don't have the funding may think this is too ambitious and unrealistic for their team and resources.
The good news is that what the big-gorillas hard-code is now available in platforms that smaller Product Teams can make use of.
Those apps can still:
pick and choose the design techniques above.
use platforms like Contextual to build onboarding elements and measure the uplift.
experiment faster to see what works – don't die wondering!