A key part of a user's journey that Contextual helps out with are Feature Discovery and Feature Adoption. Typically this is (a) announcing new features, (b) explaining complex features, (c) targeting unused features to the audience who havn't engaged.
The goals are to:
measure the uptake before,
announce or guide the users,
measure the uptick in usage and engagement
This morning I was presented with a new use that Contextual could and should be helping our customers with.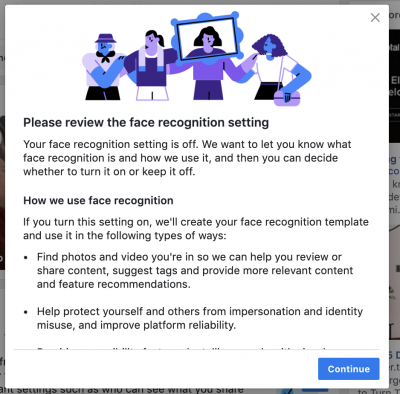 I was presented with a typical sequence in Facebook that looked similar to what our customers create. A modal dialog with a small journey and a CTA (call-to-action). 
What was different was the content – I could (tongue-in-cheek) call this Feature Justification 🙂 but it does show an evolving trend that all Apps must do in a GDPR, CCPA, post Cambridge Analytica world.
That trend is to explain what you are doing with user's data and engender trust.
Everyone is sick of clicking "cookie banners" on every site and app they visit and nobody reads privacy policies due to the monolithic legalese.
As a SaaS platform that uses data to add value, we still get plenty of questions about how we treat data. For example with GDPR there are specific questions around PII (personally identifiable information) that need to be answered.
Facebook's goals/User goals
Facebook know they need to earn back trust. They've targeted users (i.e "me") to re-earn that trust (fat chance), by explaning a feature, its net benefit to me and the value they can add. 
Here is the subsequent guide steps.
Note the penultimate step has the "Turn On" CTA defaulting to what Facebook's goals. That might seem a little snakey but I'm sure that most platforms would do the same thing.
I was at the Segment.com conference earlier this year and they have added features to let Apps pass data to other tools in a "need to know" basis.
We see that Apple, Firefox and Google are locking down the browsers exposure to 3rd party cookies – so as a customer of Contextual you may feel from time to time you need to explain more about a feature to deepen engagement. You can guarantee Facebook is doing this in a data-driven way – they wouldn't do it otherwise.
Think about it – you're users may trust your App a little more.