Mobile Tips are everywhere.
Just this morning,  I had a flashback to the whole journey that started Contextual. I opened the LinkedIn App and there was an article about our good friend (and fellow 500Startups founder) Holly Cardew of PixC.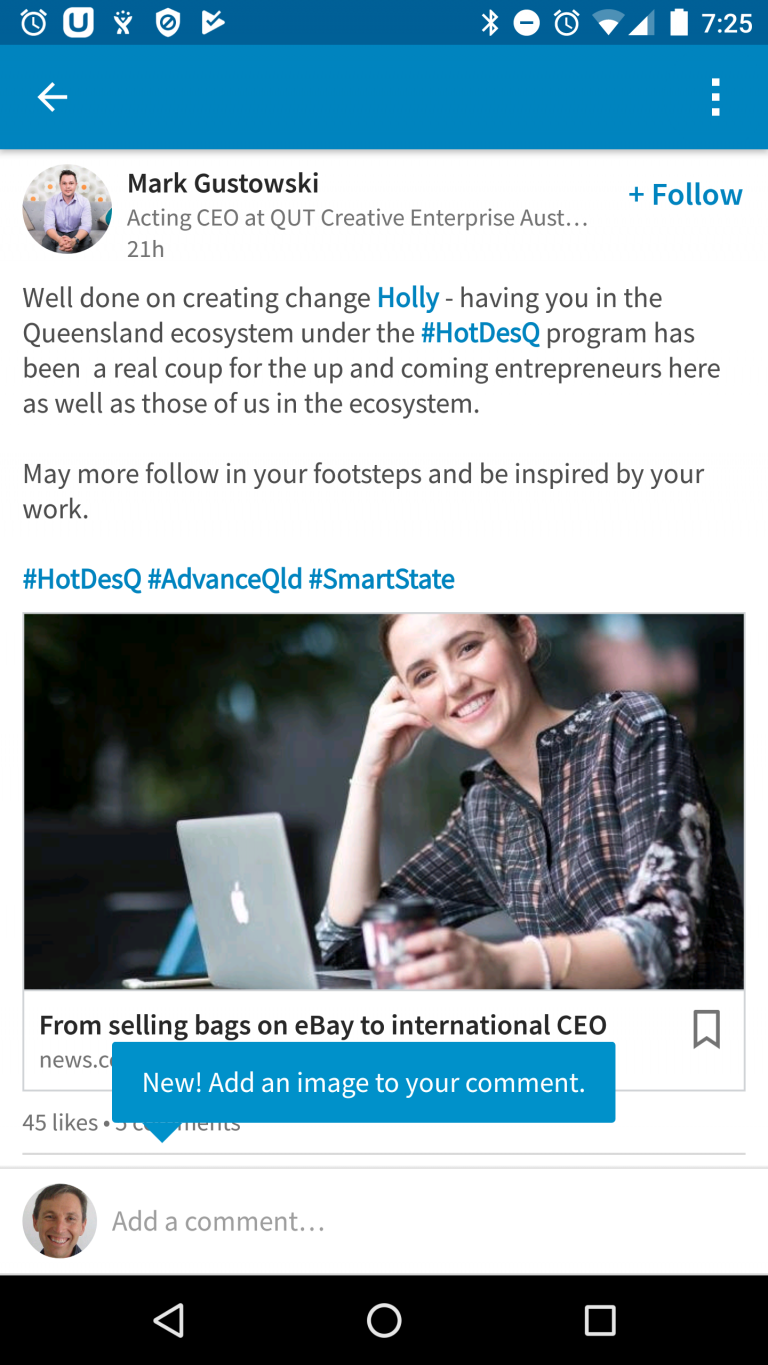 Holly has always been generous of her time, her advise and is a great entrepreneur – the Contextual team really value her support!
I wanted to see the comments and touched the comment section. As you can see LinkedIn popped up a contextual tip right at the moment of commenting. This is perfect because:
I previously had no idea I could add a picture
LinkedIn told me about this new feature
They targeted me as a regular commenter who had never posted pictures. Segmentation!
LinkedIn have been doing this for a while and so you know their analytics are telling them that contextual, segmented tips deliver uplift.
So what was the flashback???
About a year ago, we were looking for a way to add an onboarding tour to the StreetHawk Dashboard. We'd built a powerful product with many features BUT….our session analytics and exit surveys were telling us people were getting confused.
The onboarding solution we selected was open source built by LinkedIn called HopScotch. It lets you do web tips like this.


So that seemed like a cool idea at the time BUT we failed in our deployment. We should have used something like Appcues that allowed us to iterate faster. Why did we fail with Hopscotch?
You have still have to program the tips, tours.

You need developers and our developers are busy with our product.

Couldn't iterate.

By being locked into a code-based solution we'd need to roadmap small changes – even wording!

Inflexible.

Initially it seems like a simple set of javascript rules and you are up and running. Wrong. If you want to do something not exactly the Hopscotch way, you get into more complex coding – especially on multipage

No segmentation.

We were spamming all our users regardless of their familiarity with the product.

No analytics.

Why do a tour if you don't know whether it improves performance? How far did a user get into a tour?

No A/B splits.

Just like analytics, we didn't know if a tour/flow improved engagement metrics.
So we failed to make a success of Hopscotch and learned the characteristics (from a customer's point of view) of what an onboarding solution should provide.
We were scratching our own itch and we realized along the way that customer's in our very own mobile sector were experiencing the same need. We went out and talked to a bunch of people with mobile apps and learned their painpoints. They were often that
Contextual was born!
Contextual has a lot more to do and a huge market need to address. Consumers choose to engage with their vendors via mobile Apps – we aim to help deepen that engagement.
Mobile Tips are everywhere.
Just when I was transferring Holly's image over for this blog post, Google Drive pops up a "New Feature" Tip. Here it is. The big companies know contextual, unobtrusive tips make sense. Your App could benefit from it too!